Shop By Category
Competition Components
4406 Van Atta Rd.
Okemos, MI 48864
PH: 616.499.6223

Contact Us!
CNC Ported Big Block Mopar Heads
CNC Ported Edelbrock Victor Heads, BB Mopar - Flat Tappet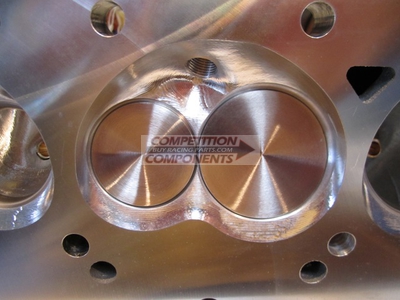 Competition Components has put together the Edelbrock Victor head package you have always wanted for your street strip Big Block Mopar!
Edelbrock Victor Castings
Full CNC porting uncluding runners and chambers
2.250/1.81 Ferrea Stainless Swirl polished Valves
Competition Valve Job
PAC Beehive Springs (.600 Lift)
Moly Beehive Retainers
72CC Chamber
332CC Intake Runner
10° Keepers and Retainers
Precision assembly and Spring Set up.
Lots of different options available including Titanium Retainers, Endurance Springs
| | | |
| --- | --- | --- |
| LIFT | INTAKE | EXHAUST |
| .100 | 77 | 80 |
| .200 | 159 | 111 |
| .300 | 219 | 159 |
| .400 | 265 | 196 |
| .500 | 310 | 215 |
| .600 | 343 | 233 |
| .700 | 370 | 245 |
| .800 | 383 | 256 |
Tested at 28", 4.380 Bore