Shop By Category
Competition Components
4406 Van Atta Rd.
Okemos, MI 48864
PH: 616.499.6223

Contact Us!
CNC Ported Pontiac Cylinder Heads
CNC Ported Pontiac Ram Air Heads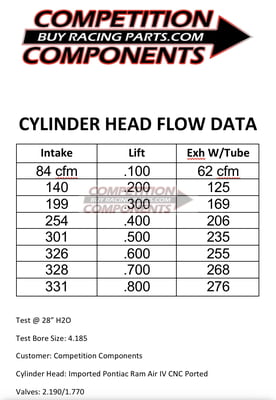 CNC Ported Ram Air IV heads
Imported castings
Fully CNC Ported Ports and Chambers
Proprietary Port design
2.190x1.770 Stainless Valves
Lightweight Steel Retainers
Viton Seals
Dual .650 Lift Hydraulic Roller Springs
Steel Spring Seats
Competition Valve Job
72CC Chamber
Flow Data and Pictures Coming Soon!