Shop By Category
Competition Components
4406 Van Atta Rd.
Okemos, MI 48864
PH: 616.499.6223

Contact Us!
Bullet Big Block Buick Pistons and Ring Kits
Bullet Big Block Buick 455 Dished Pistons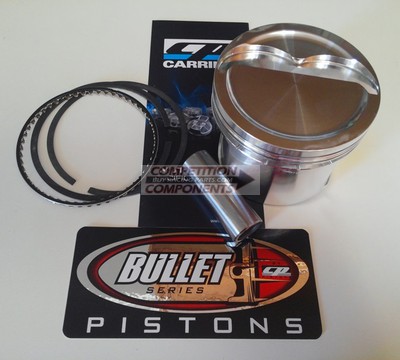 Bullet Buick Pistons for your Buick 455 by CP-Carrillo! Finally a Buick 455 Piston from one of the finest names in the aftermarket.
4.350 Bore
1.980 Compression Height
1.000" (Stock) Pin Diameter
20CC Net Dish
1/16, 1/16, 3/16 Ring Pack
Pin Fit
644 Grams
.280 Deep Valve Pockets
Price includes: Pistons, Pins, Pinfitting, Rings and Wire Locks.
Approximate Compression Ratio 10.5 to 1. To Calculate compression for your combination, please use our compression ratio calculator: Compression Ratio Calculator