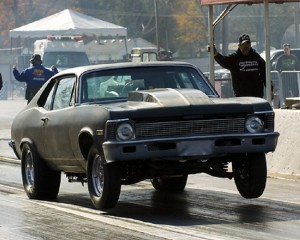 Some guys have a lot of money to spend on their toys. Other guys have to be more budget concious.  Aftermarket blocks, high dollar heads, roller cams, yeah, who doesn't dream about that stuff? Sometimes it just isn't in the cards.
Phil doesn't have a ton of extra dough, like most of us.  But he does want to go racing! So you have to be smart about the dollars you have available. The car, a 1972 Nova, weighs in at about 3500lbs. It's a basic street/strip type of set up. Mini tubs, 10 point cage with swing out bars, Jaz poly seats, make for an all business approach. The outside of the body is stock and all steel other than the fiberglass cowl hood and front bumper both from Harwood. Slicks are 30X9, and front runners round out the package.
The engine is equally no frills, but just as smart. Stock block and 063 oval port heads are the core to the combo. The stock GM steel crank is.010/.010 and slings GM rods with 7/16 ARP bolts and TRW domed pistons. All business, no flash. Cam is a flat tappet form Competition Components 256/266 with .636 lift. EDM constant oiling lifters make sure the cam and lifters get plenty of lube. Comp Stainless rockers and .080 pushrods make sure that all of the lift the flat tappet can produce gets to the valve. The Beehive springs and retainers keep the heavy valvetrain in check. An 850 Quick Fuel carb sits on top of an unmodified Team G from Weiand. The 8″ converter is from Transmission Specialties, and the transmission is a bullet proof  'glide from Hutch's transmission in Canada.
The old girl has done right by Phil so far, it's been a best of 10.88 at almost 123 MPH with the old 4500 converter. The new 8″ converter should help launch the car a bit harder, so hopefully ET's will improve a little. At this weight, a 3 speed would probably help some too, but that is just on the wish list for right now.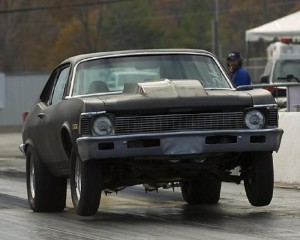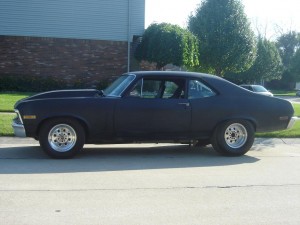 Tags: 063 Iron heads, 72 Nova, Competition Components, EDM lifters, Flat tappet cam, Oval Port heads, Scott Brown cam