Competition Components is pleased to offer the Racetec and AutoTec piston lines to our online store. Racetec was founded by Wayne Brooks,
who was the former owner of JE Pistons. RaceTec Pistons are designed and engineered by true piston experts. Experts, who understand the intricate and complex automotive aftermarket industry and more directly performance engine applications like no other manufacturer can. Our State Of The Art designs utilize knowledge gained throughout our combined years in the automotive and piston racing industries. We are also the only piston company that is using a state of the art D.T.S. Engine Dyno to help in the development of our designs. Having our in house dyno along with our customers to develop and refine piston design has helped us to deliver a superior product. Considerable design and manufacturing experience have been implemented to deliver the tolerances expected by the highest level of race engine builders and yet "keeping it user friendly" to accommodate the entry level and Saturday night racer.
The AutoTec Line is a precision machined product, offered at very competitive pricing. Made out of 4032 High Silicone Aluminum Alloy, it has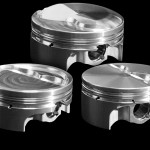 great wear resistance, a low expansion rate, is very durable, and is very low in friction. These pistons accommodate multiple uses including. Your local auto shop, muscle car restorations, performance street rods, as well as many spec racing classes. They can also withstand mild nitrous kits and small turbo or super chargers. Just about everyone can benefit from the excellent value the AutoTec line carries.
RaceTec Pistons    AutoTec Pistons
Tags: Autotec Pistons, forged pistons, Performance Pistons, RaceTec Pistons, Racing Pistons