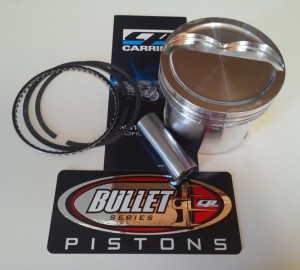 Competition Components is pleased to announce the release of two new Buick 455 Pistons. CP is a leader in racing pistons, and their new Bullet line of pistons maintains that winning tradition at an affordable price. Bullet pistons are packed with features:
Balanced to + or – 1 gram
2618 alloy for strength and durability
Dual forced pin oilers
Contact reduction grooves
Accumulator Grooves
Contemporary ring set included
Forged side relief
Chromoly wrist pins with wire locks
FEA designed forging
Tight tolerances
USA made
Competition Components worked closely with CP to get these pistons manufactured to meet the needs of Buick enthusiasts. We have dished pistons available for both 455 (4.350 Bore x 3.900 stroke) and the 470 (4.350 Bore x 3.950 Stroke) combinations. They are in stock for immediate shipment.
Check them out here: Buick pistons from CP Bullet
Balanced to + or – 1 gram
2618 alloy for strength and durability
Dual forced pin oilers
Contact reduction grooves
Accumulator Grooves
Contemporary ring set included
Forged side relief
Chromoly wrist pins with wire locks
FEA designed forging
Tight tolerances
USA made
– See more at: http://www.cp-carrillo.com/Segments/BulletLine/tabid/67/Default.aspx#sthash.h5f6yGws.dpuf